Today, DEIF marked its 90th anniversary at a successful event at its headquarters in Skive, Denmark – with a clarion call for strengthened green commitment from industry and politicians alike; a commitment that will require a willingness to embrace fundamental change and make the investments needed as well as broad cooperation.
Skive, 16th November 2023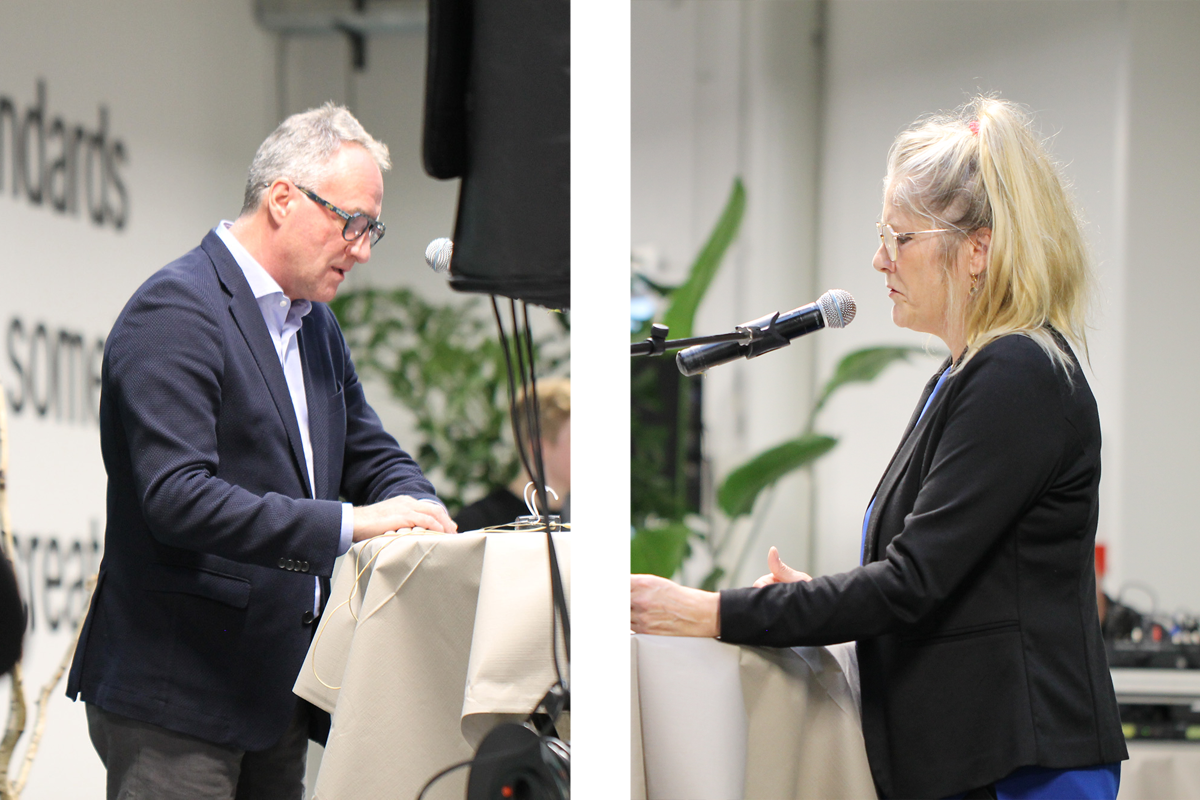 Lars Sandahl Sørensen & Jenny Braat
Today, the electronics company DEIF celebrated its 90th anniversary at an event held at the company's headquarters in Skive, Denmark. Customers, suppliers, and partners from all over the world were present for the festivities. They had the opportunity to visit DEIF's new and almost-completed factory and listen to interesting speeches by CEO Jenny Braat of Danish Maritime and CEO Lars Sandahl Sørensen of Danish Industry.
The 90-year-old has no plans for retirement – far from it. To DEIF, the celebration was not only an occasion for canapés and toasts. The company also took the opportunity to speak openly of the need for strengthened joint commitment to the green transition.
A willingness to change – and invest
"We all share the responsibility for driving development in a more sustainable direction," said Group CEO Christian Nielsen of DEIF. "As a supplier to energy-producing industries and businesses, DEIF naturally has a special obligation, but this will require an effort from us all. We must be willing to embrace fundamental change – and to make the investments needed."
DEIF is continuously working to reduce resource consumption in its own operations. The new factory in Skive will play a key role in this; it is designed to be as sustainable as possible and will be used for responsible local manufacturing of the electronics used in DEIF's products. These products are increasingly used in power generating plants that are wholly or partially based on sustainable energy sources.
In addition, the company will commit to defining and reaching ambitious climate targets under the UN SBTi (Science Based Targets initiative) programme. The targets must be based on valid climate research and be verifiable by a third party, and this ambition cannot be fulfilled without a major, coordinated effort by DEIF and the company's partners.
Call for political commitment
For this and other reasons, Christian Nielsen is careful to point out that this is not a path that DEIF can walk alone.
"We need the entire industry on this journey," he says. "We need to expect more from each other and find new and sustainable solutions. And we need commitment from our politicians – they need to develop frameworks that encourage action and make our work easier. This is a challenge that we can only overcome together. At DEIF, we are proud of having evolved in a positive direction for 90 years. Now is the time to really drive the next 90 years of development in a more sustainable direction – together."