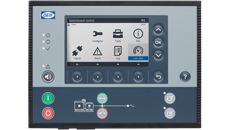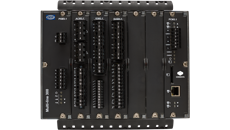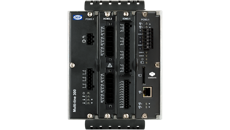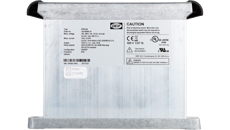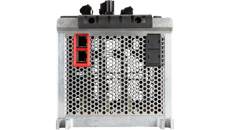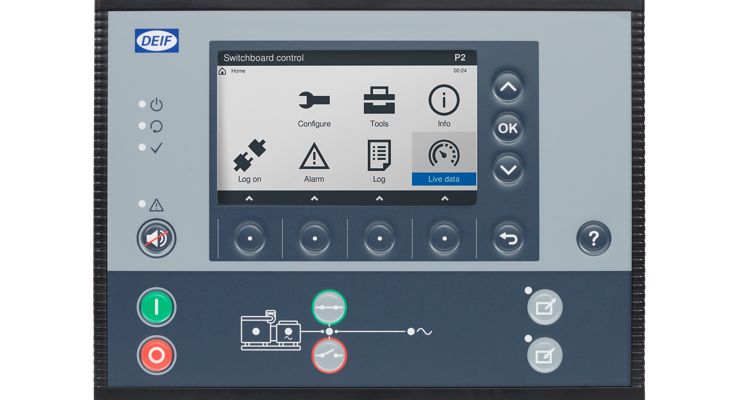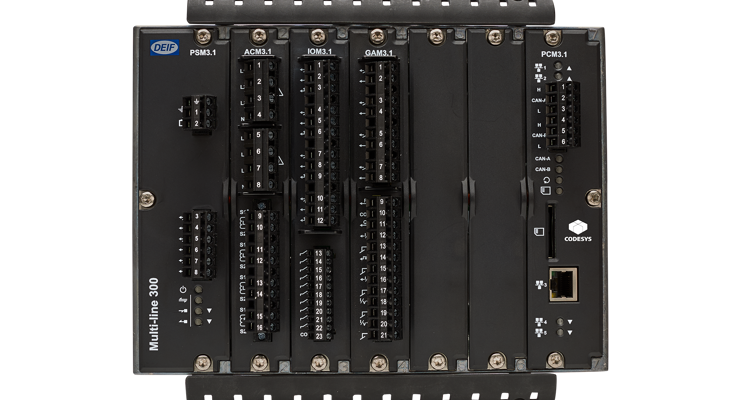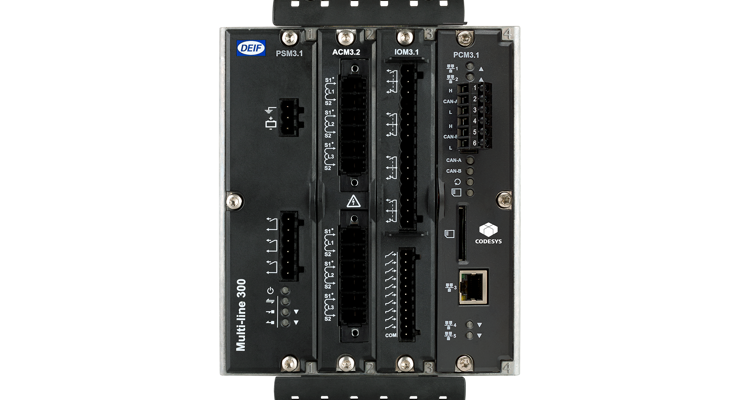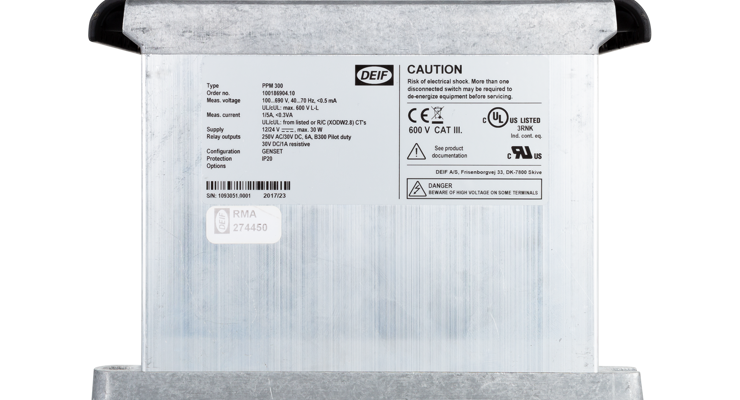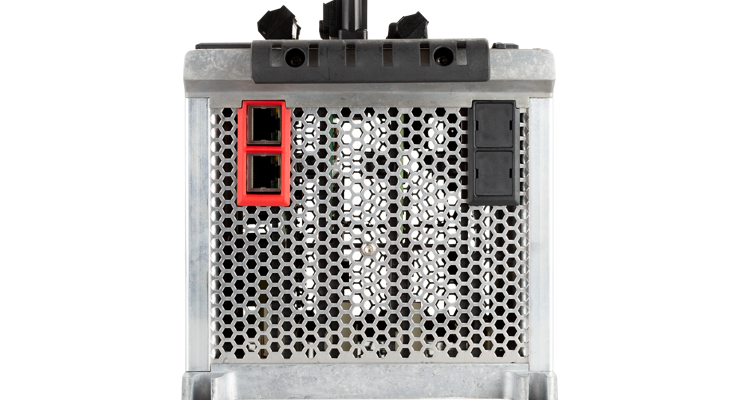 The PPU 300 Standard controller with CODESYS is a highly configurable generator, shore connection, or bus tie breaker controller. Instead of the CustomLogic PLC environment, it comes with the hardware and manufacturer independent CODESYS PLC environment that extends the functionality of the controller and gives you more control and communication options.
Using CODESYS, you can customise the PPU 300 controller to your requirements by developing unique, customised applications. You can use instruction lists, structured text, ladder diagrams, function block design, and sequential function charts, all of which are IEC 61131-3 compliant PLC programming languages.
Note that CustomLogic is not available in this controller variant.
Part of the versatile PPU 300 range
The PPU 300 Standard controller with CODESYS is part of the DEIF PPU 300 range of intelligent and versatile controllers with built-in load sharing and synchronisation features. It can be used for a wide range of marine and offshore applications with an extensive range of protection, supervision, and control functions, including market-leading fuel optimisation technology. The PPU 300 can be used in a power management solution where the power management logic is located elsewhere, and it handles busbar sections with ease. For general information about the PPU 300 range, see the PPU 300 main page.
Highly customisable architecture
All PPU 300 variants can be specified with 4 or 7 I/O module slots. The modules provide voltage and current measurement, I/O, engine control, governor and AVR functions, and communication. Three modules are mandatory, but you can use the remaining 1 or 4 slots to customise the controller by adding modules or leave them empty. In addition, you can add up to 9 expansion racks to a single PPU 300 to get up to 58 free module slots (up to 4 in the base rack and up to 6 in each expansion rack).
Unique ANSI 87G differential protection
With the optional ACM3.2 module, you can add ANSI 87G differential protection for generators. The module measures phase currents on the consumer and neutral sides of a generator in order to detect phase-to-phase faults or phase-to-earth faults in earthed generator systems. With this unique feature, you can design reliable and safe power systems without external differential protection devices.
DEIF's paralleling & protection and generator protection unit PPU 300 CODESYS features integrated CODESYS, enabling switchboard builders, system integrators and end-users to create customised applications and projects. CODESYS also eliminates the need for external PLCs. 
CODESYS cuts your costs and ups your flexibility
Eliminating the need for external and expensive external PLCs, the integrated CODESYS lets you develop customised applications according to customer requirements directly in the controller unit, saving you both installation cost and time. Being fully CANopen and CANraw compatible, it also makes retrofitting of older installations much easier as it allows for integration into any existing application. Once done, you'll be happy to note that testing the installed DEIF control unit also means testing your entire system. 
Advanced functions for a greener world
Leveraging the flexibility of the PPU 300 saves investment and maintenance costs since the PPM 300 can be configured for a wide range of different applications, thus alleviating the need to have multiple products or vendors. An extensive range of protection, supervision and advanced control functions, including market-leading fuel optimisation technology, are provided for a wide variety of applications.  Applications include generator control and protection developed for diesel generators (including emergency diesel generators), shaft generators, shore connections, and bus tie breakers. 
Space-saving, flexible and modular infrastructure
The PPU 300's cost and space efficiency, flexibility and configurability are thanks to DEIF's Multi-line 300 platform which offers a number of different plug-in modules, to meet the varying application requirements. Modules are installed in space-saving 4 or 7 slot extension racks which are expandable with up to 10 racks per controller (1 primary controller rack + 9 extension racks), giving each individual PPU 300 controller system support for 59 I/O modules. The Multi-line system also provides multiple controller capability allowing the expansion of up to 32 individual PPU 300 systems, giving a flexibility and scalability that caters for installations ranging from small vessels to very large power plants. A single PPU 300 can provide ANSI 87G differential protection functionality.
Easy configuration and user-friendly operator control 
No big investment costs are needed for training to set up and use the PPU 300. Designed to be simple and user-friendly, the display unit includes a 5" colour graphic screen with intuitive menus and logical sequences and icons, making it easy to configure and set up and perform maintenance and upgrades. Fast readout of live data and easy access to alarms handling allows quick and efficient use in day to day operations. 
What is CODESYS?
CODESYS (short for COntroller DEvelopment SYStem) [LINK TO www.codesys.com] is a development environment for programming controller applications according to the international industrial standard IEC 61131-3. Developed by the German 3S-Smart Software Solutions company is was first launched in 1994. CODESYS licenses are free of charge and can be installed legally without copy protection on an unlimited number of workstations. The software tool covers different aspects of industrial automation technology with one surface.
All five programming languages for application programming defined in the IEC 61131-3 are available in CODESYS:
IL (instruction list) - assembler like programming language
ST (structured text) - similar to programming in Pascal or C
LD (ladder diagram) - enables the programmer to virtually combine relay contacts and coils
FBD (function block diagram) - enables the user to rapidly programme both Boolean and analogue expressions
SFC (sequential function chart) - convenient for programming sequential processes and flows
For a full list of modules, see the Modules tab.
Recommended I/O modules
| | | | | | | |
| --- | --- | --- | --- | --- | --- | --- |
| Slot 1 | Slot 2 | Slot 3 | Slot 4 | Slot 5 | Slot 6 | Slot 7 |
| PSM3.1 | ACM3.1 | Blind module | Blind module | Blind module | Blind module | PCM3.1 |
The table shows a 7-slot rack, but the controller is also available with a 4-slot rack. Modules PSM3.1, ACM3.1, and PCM3.1 are mandatory. If you add expansion module racks, each expansion rack must contain a PSM3.2 power supply module but does not need to contain other modules.
Other PPU 300 variants
Product videos
Products
Installing the display unit (DU 300)
Introduction to the display unit (DU 300)
Unboxing the display unit (DU 300)
Tutorials
Installing the Multi-line 300 controller rack