NORWEGIAN TUG OPERATOR INCREASES EFFICIENCY AND CLIMATE FRIENDLINESS WITH BLUEFLOW
Oslo-based marine services company Buksér & Berging AS expects to save fuel and reduce emissions with the Blueflow energy management system. Equally importantly, the company will improve the efficiency of its operations, for example through improved invoicing and faster emissions reporting, and obtain a great overview of its entire fleet.
"From our perspective, green operations are a win-win situation. When you reduce fuel consumption and emissions, you increase profitability," remarks Project Manager Åsmund Eika of Norwegian marine services company Buksér og Berging AS. "However, it requires that we're able to carefully plan our operations, for example optimising transit and relocation of ships so we can sail economically."
Active since 1913 and headquartered in Oslo, Norway, Buksér og Berging AS (BUBE for short) is a privately owned company recognised for its modern, fit-for-purpose vessels providing safe and efficient operations. Among its services are harbour towage and ship escort, offshore platform support and salvage and emergency response, and BUBE aims to have a modern fleet of tugs, offshore support vessels and pilot boats to provide its wide range of specialist marine operations.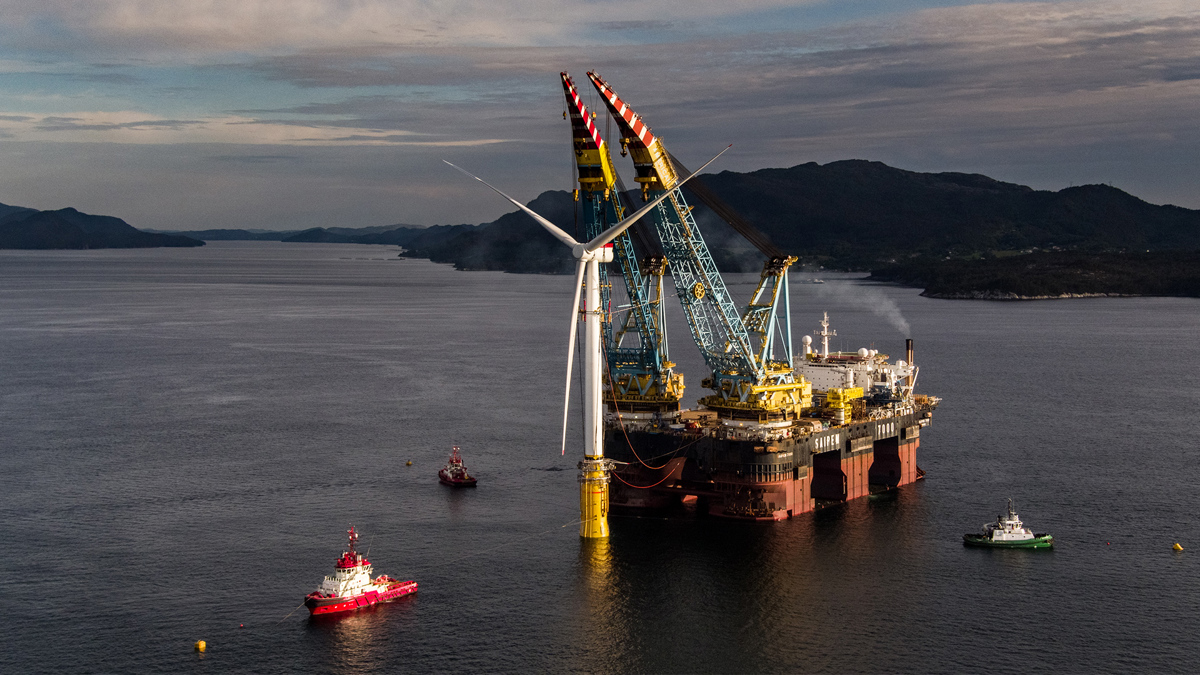 BUBE provides a wide range of specialist marine operations such as harbour towage and ship escort, offshore platform support, and salvage and emergency response
Green operations are important to BUBE
While reliability, safety and top quality are the cornerstones at BUBE, the company also recognises that its operations produce high volumes of exhaust emissions and that significant measures are required to achieve sustainable operations. BUBE therefore aims to improve its operations to reduce fuel consumption and introduce new, greener technology when commercially sustainable.
For almost a decade, the company has operated the so-called BB Green Operations programme; a framework for saving fuel and reducing energy consumption that has been implemented on all tugs in its fleet. BUBE is also certified according to the ISO 14001 standard which specifies requirements for establishing environmentally friendly policies, procedures and goals.
"We've had several focus areas, both technically and operationally," explains Åsmund Eika. "Some years ago, we delivered the world's first LNG powered escort vessels that are currently contracted to Norwegian energy company Equinor, and more recently we've upgraded our fleet with more tugs with new hull designs and technologies that satisfy the emission requirements of IMO Tier III".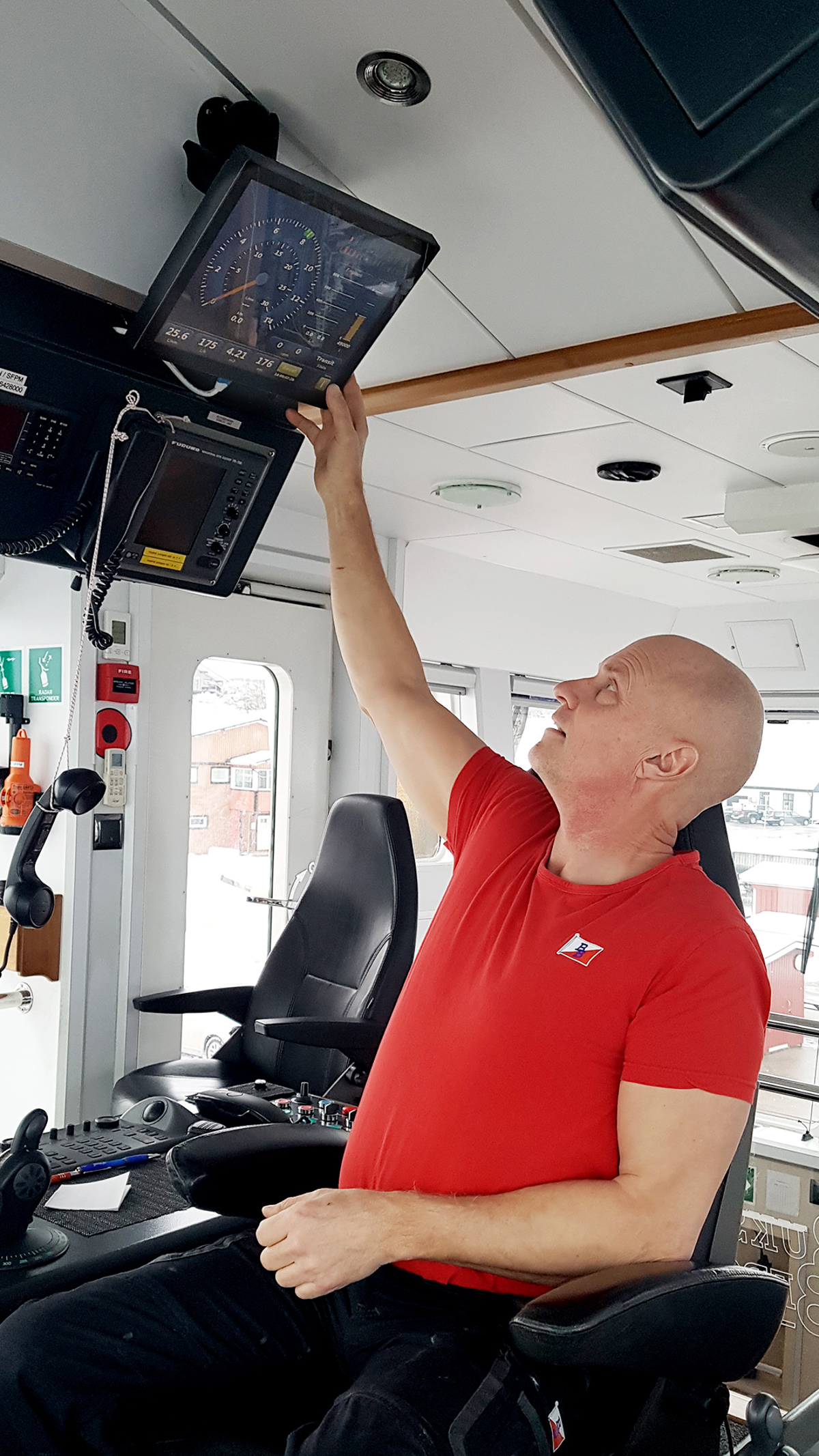 Combining green and efficient operations with Blueflow
To further decrease its climate footprint while maximising operational efficiency, BUBE decided to equip its 35 tugs with the Blueflow energy management system. The system was installed on the vessels during 2020 and 2021.
Blueflow monitors and analyses energy consumption on board, showing the crew how much energy is currently being used for propulsion, navigation and other onboard consumers. The system includes factors such as wind direction, depth, vessel speed and course, and it provides a very precise overview of the correlations between energy usage, current sailing conditions and crew actions. Information is displayed in real time to both crews and office staff, allowing crews to sail more economically and facilitating administrative tasks for office employees.
"We wanted to implement a fuel monitoring system to increase awareness of fuel consumption in our fleet and on each individual ship, and to carry out our operations in an energy-efficient way," says Åsmund Eika. "In addition, we wanted to give our office a better overview and improved control over the operating patterns of our ships. This allows us to increase the efficiency of several work processes and improve the quality of our reporting."
Investing in the system also helps BUBE comply with customer requirements and emissions regulations. The company's customers increasingly require their subcontractors to focus on fuel consumption and reduce emissions. In addition, new emissions requirements for tugs will soon come into force, and BUBE is operating in areas that are planned to become zero emission areas. By increasing crew awareness of energy consumption, Blueflow will facilitate fuel savings and emission reductions in its tug fleet.
Great overview with the Blueflow Wallboard
The unique overview provided by Blueflow allows BUBE management to improve administrative processes such as invoicing and emissions reporting.
"We can easily get information such as operating hours, fuel consumption and distances covered for each phase of every tug operation and use that information for invoicing," explains Åsmund Eika, adding that Blueflow will also help the company carry out mandatory reporting tasks: "For NOx reporting in particular, Blueflow has a unique functionality that makes it a useful tool for calculating and reporting NOx emissions for the authorities – both for our crews and for our admin staff on land."
Another Blueflow feature that eases everyday operations for BUBE is the Blueflow Wallboard; a large wall-mounted screen at the company's Oslo office that shows fuel and energy consumption, CO2 and NOx emissions, and operating hours and distances covered – for the entire fleet and for each individual ship. The Wallboard is configurable and can be adapted to show the information needed.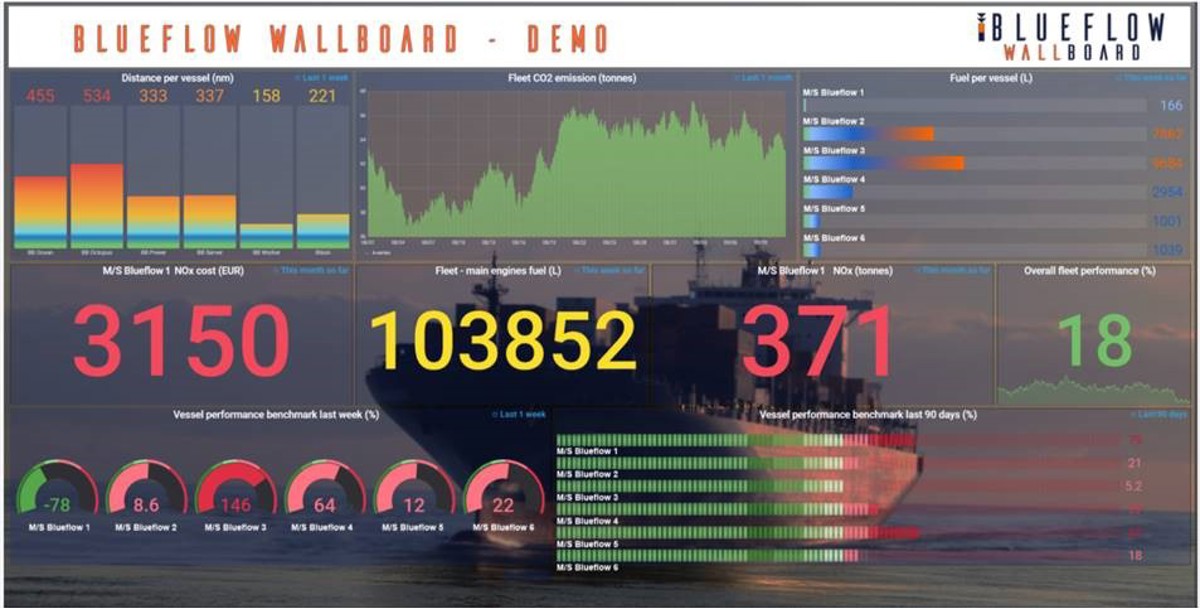 Example of a Blueflow wall-board
"We're planning to adapt the Wallboard to show our KPIs to give us a real-time overview of how we're doing in relation to our objectives", says Åsmund Eika. "We'll also be able to track development over time and quickly see if activity levels are going up or down. We'll be able to see if we're using our fleet optimally, or if there's anything we need to address."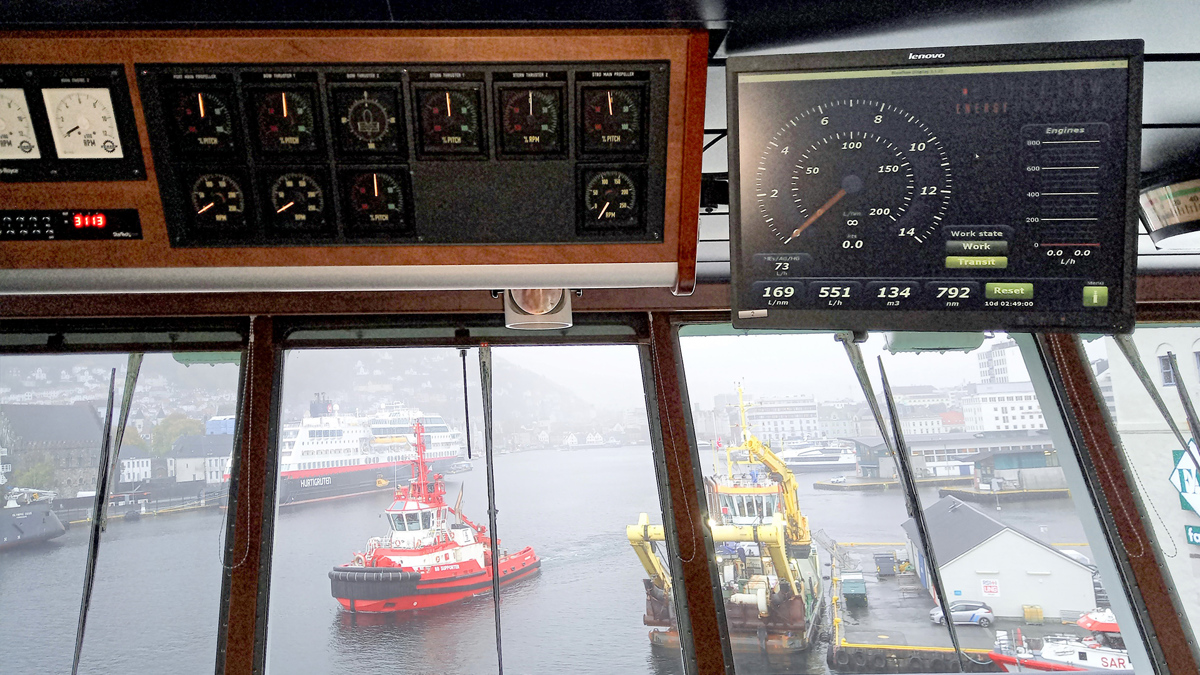 On board for new challenges
BUBE is confident about the future, continuously seeking new challenges in both present and new market segments. The company intends to invest in new vessels and capabilities to meet future requirements in the maritime industry, and Blueflow is expected to be part of that journey: The system will be implemented on all new tugs in the BUBE fleet. The BUBE crews are gradually realising the benefits that Blueflow brings, and the useful information provided by the system will make a difference in everyday operations, helping BUBE combine green and efficient operations.
"We've chosen to roll out Blueflow on all tugs in our fleet to have one common platform for everyone and to facilitate the same working processes on all ships", says Åsmund Eika. "We believe that all of our ships can do a little extra to run more economically. We're expecting to achieve further fuel savings through awareness, and in particular through the knowledge we gain from continuous monitoring and analysis of onboard fuel consumption with Blueflow".
Contact us

Per Ole Sørensen

Solution Manager, Marine & Offshore and Engine MFG