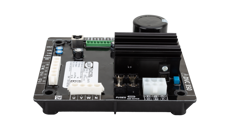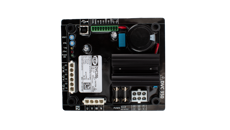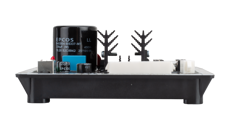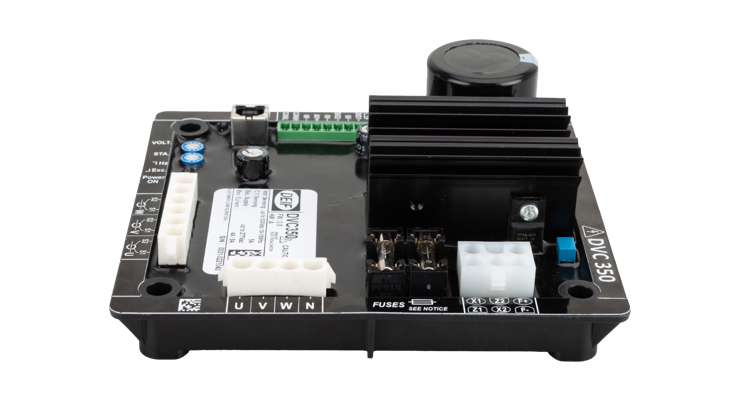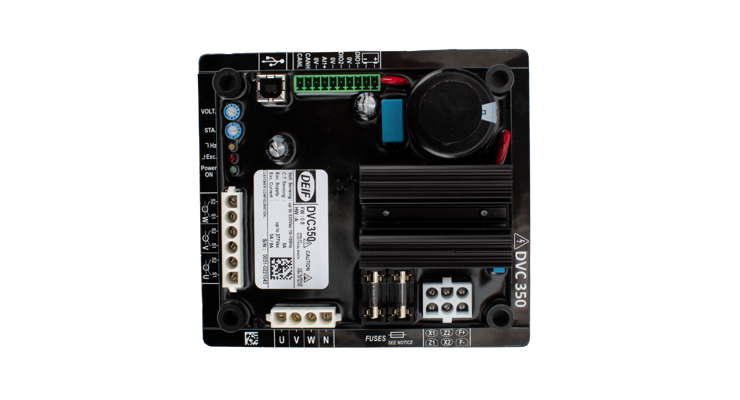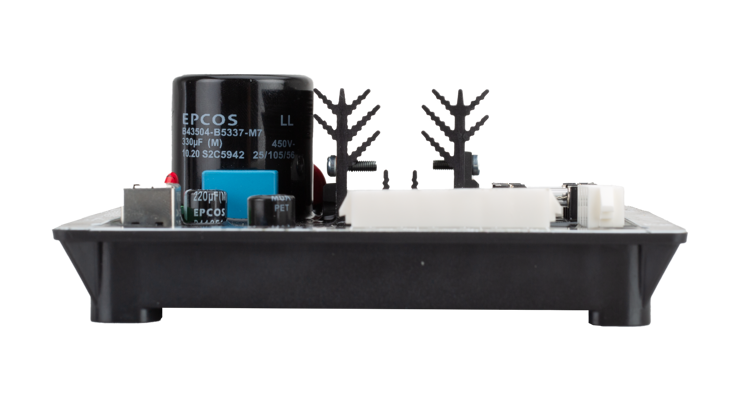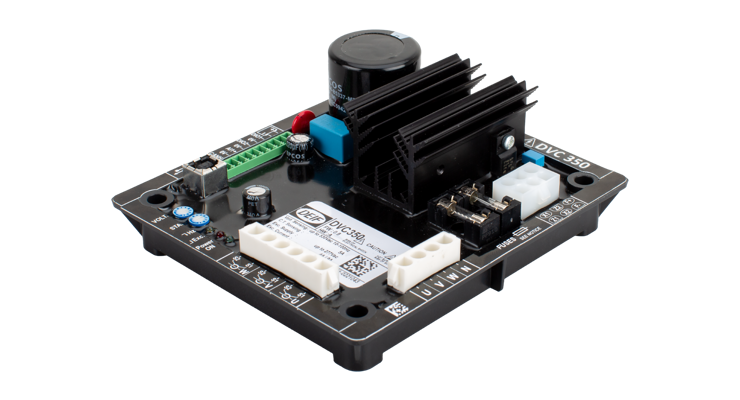 The DVC 350 is a digital automatic voltage regulator (AVR) for controlling alternators which require rated field currents up to 5 A. Designed for a wide range of alternators with SHUNT, AREP (auxiliary winding), or PMG (permanent magnet) excitation, the DVC 350 controls the alternator from the field current or the output voltage regulation loops. It includes several protections and functions that keep the alternator running efficiently and safely.
Wide range of regulation features
The DVC 350 offers several regulation features that satisfy most common control requirements: reactive and line droop compensation, a soft start function, voltage soft recovery, start on threshold, and a load acceptance module (LAM) function. It enables regulation over a CAN bus connection, and it offers a wide range of protections (over and under voltage, over and under frequency, over and under excitation, and voltage unbalance). The unit is able to withstand sudden short-circuits for up to 10 seconds.
Integration with the AGC 150 series
The DVC 350 is ideal for use with DEIF AGC 150 controllers which are able to control all its built-in digital voltage regulation features and can receive fault information directly over a CAN bus connection. Factory settings can easily be changed using the free, user-friendly DEIF EasyReg Advanced PC utility software. The DVC 350 even offers a USB communication module for setting parameters and retrieving data.
Ideally suited for volume production
The tried and tested DVC 350 delivers cost-effective performance and is particularly well suited for volume production: DVC 350 setups can easily be copied from unit to unit without setting switches or potentiometers manually. This greatly speeds up setup operations and productivity, and it increases consistency and safety as the same setup can rapidly be applied across any number of AVRs. Individual DVC 350s can also be regulated using the built-in analogue potentiometer if needed.
For more advanced alternator applications, we recommend the DVC 550 digital AVR.