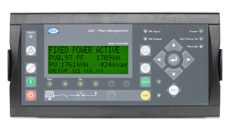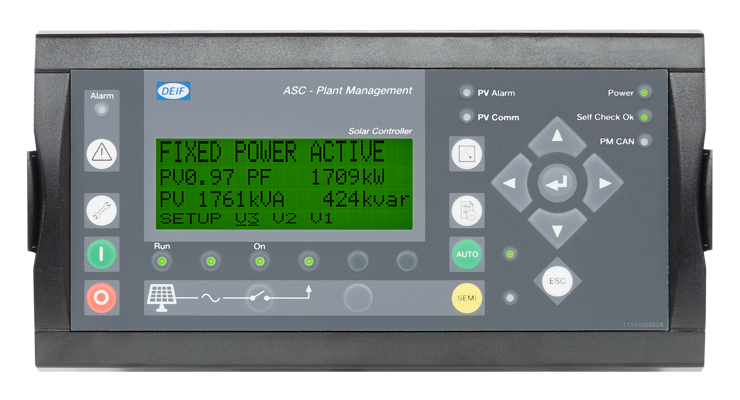 The ASC-4 Solar is a reliable, fully integrated, and optimising link between sustainable power plants and genset power plants. Designed for greenfield applications with other DEIF controllers such as the AGC-4 Mk II advanced genset controller and other sustainable controllers in the ASC-4 range, the controller can interface with PV inverters and other power source controllers, and it can be part of a power/energy management system.
Maximising sustainable power penetration
In any operation mode, the solar controller automatically maximises sustainable power penetration, depending on the total load demand on the hybrid plant, without compromising constraints such as minimum genset load demand.
In off-grid operation, the ASC-4 Solar offers a minimum genset load constraint that lowers sustainable power penetration if PV production is compromised. This ensures a certain amount of load on the gensets, eliminating the risk of reverse power situations and impure combustion and exhaust problems.
Ideal for self-consumption applications
In grid-tied applications, the ASC-4 Solar can feed surplus PV energy to the grid and generate profit in accordance with grid operator feed-in tariffs. Alternatively, it can regulate production through PV curtailment to match the self-consumption, thereby preventing any feed-in of PV power to the grid (zero export) if prohibited by grid operator regulations.
Wide range of inverters
The ASC-4 Solar is compatible with a wide range of PV inverters, allowing you to integrate it with virtually any PV installation. DEIF is a member of the SunSpec Alliance, and new inverters are constantly being added. For an updated compatibility list for the controller, see Application Notes on the Documentation tab.
Compatible with sky imager solutions
The ASC-4 Solar is compatible with leading sky imager solutions, enabling it to predict the weather and PV production and take counter-measures if needed, for example starting up the required number of genset in due time before clouds reduce PV production – and keeping gensets running if forecasts indicate that PV production will drop again shortly.
Emulation feature provides safe system testing
The built-in emulation feature of the ASC-4 Solar enables you to interact with the controller in a controlled and safe environment without risking to damage any equipment. All you need to do to perform a complete test of your system is to turn on your controller and connect communications.
Product videos
Cases
School's hybrid microgrid showcases ease of resource management
Off-grid island achieves security of supply with DEIF power management